I married into sweet tea and camping when I said "I do", to my amazing husband.
Before marrying him I thought I loved camping but after going camping with his family for the first time I realized I was only a nominal fan of camping.
His family knows how to camp and they love doing it.  One of our wedding gifts from his father was an enclosed white trailer filled with camping gear. I told you they love camping.
I hope that this list is helpful even though I am sure my father in law would add 50 other things to it. Also, if you're looking for other helpful camping posts here are some of my faves:
–Camping Crafts & Activities For Kids you'll want to check out our fun ideas.
Follow along via your favorite social network so you don't miss any of our fun family articles :Pinterest Facebook or Twitter and our readers preferred way via email.
This Camping with Kids: Packing Check List does not cover all types of weather camping. It's the basics for your average camping trip and not your "roughing it", off the trails camping.
Honestly, I am not a list maker, in fact, I like to brag about how I don't need to make list but for camping and traveling I have found that it's better to be safe than sorry.
Camping with Kids: Packing Check List and Tips
But as I get older my new motto is: Make a list and check it twice!
Camping Gear
If you haven't done much of camping you're probably overwhelmed with all the gear you can purchase but if you're not sure you're really going to be a camping family I would stick to the basics for your first camping trip. If you do know you'll be camping quite a bit here's our list of fun camping gear!
We have slowly accumulated this gear which I mostly give to my hubby for Christmas or Father's Day since I know he loves it. The items below are affiliate links.
Hobo pie irons – We love our hobo pie irons. You just place them over the fire and you're set. We purchased ours online and slowly added to our stash until we got 1 for each person. You can see the ones we got here Hobo Pie Iron. They are not expensive and well worth your money. I bought one for my husband for Father's day, such a great gift idea for my camping man. They are amazing to cook breakfast, lunch and dinner on. Make sure to bring cooking spray. The above picture is french toast, roasted apples with berry sauce all made in our pie iron (not the sauce).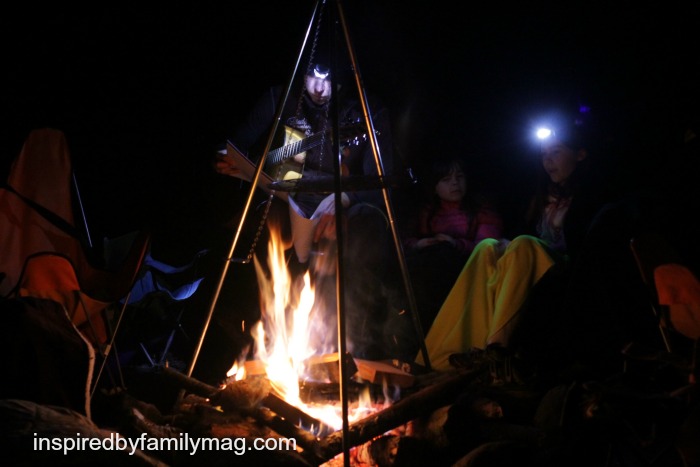 Tripod Grill and Lantern Hanger – This tripod changed our camping meals. We use it every time we go and it allows for more even cooking because we can change the length of how high or low we want to set our pots over the fire. This is the one we own Tripod Grill.
Tent – We have a nice big family size tent, all 5 of us fit comfortably in it and there is even room for a pack and play.  It's an affordable one we got as a gift, you don't need a big name brand to keep the water out. The features I really like: room divider, the mesh around the sides of the tent that zip up, the tent cover, little hooks inside to hang things, pockets to store stuff and it's easy to put up even though it's big. This is the tent we have: Ozark Trail 10-person Tent.
Sleeping Bags– If it's cold in your neck of the woods purchase good sleeping bags we have down feathered sleeping bags and I will never go back. When I was in college I camped in a cheap sleeping bag, in North Carolina mountains, in the winter, it was the biggest mistake of my life. Our boys sleeping bags are cute Transformer bags but they are not warm at all. So we usually have to take their down blankets with their sleeping bags. When purchasing those cute sleeping bags make sure you check out how warm they will keep you based on the weather you camp in. I highly recommend you not getting just any old sleeping bag if you're ever going to be camping in cold weather. This is the sleeping bags we own but there are many to choose from. This Coleman sleeping bag is less expensive and it says it's for cold temperatures.
Camping stove– We have a single burner camp stove that is small and we have used it every where at outdoor concerts, back yard and camping for heat hot water or making soup. It's a great little light weight piece of equipment. We have made all sorts of meals on it with our little metal cooking pans. This is the one we own- Coleman single burner stove.
Camping chairs– You can find chairs in all shades sizes and styles. We have some simple camping chairs and my husband likes his big manly one. We have learned the hard way that it's important to pack a camping chair and a flashlight for EACH child.  Otherwise, you will spend your whole time breaking up arguments on who gets to use it next.
Camping Tips
My father in law likes to take hay and place it under the tents for padding. You can also use inflatable pads (not to be confused with inflatable mattress, though this also works) these are easy to store and not as big. The picture below my son is laying on a sleeping pad.
Also, if you are camping for the first time you may want to do a trial run in your backyard or short drive from home.
Kindling: There are lots of things you can use to start a fire-newspaper, lint, twigs, pine needles, potato chips (I read this but never tried it), pine cones…. just to name a few.
If you are camping with a baby: I would add to bring along:
diaper rash cream
tarp or shower curtain to lay on the ground for them to play
if bottle fed:extra bottles
pacifier
extra onesies
baby carrier
stroller
extra diapers
sippy cup
pack and play (those are great for indoor sleeping and to set up outdoors to let them play)
johnny jumper
bedtime story book
Stuffed animal- If they have a blankie or special stuffed animal make sure to bring it along.
Camping with a toddler – I would add bring along some of the things mentioned above plus:
Bright/noticeable string or tape to set boundaries for them to know where they can't go pass.
Lots of toys -For extra entertainment if they get bored with dirt, rocks and branches.
healthy treats and snacks (apples, carrots, oranges, cheerios, trail mix)
Let them pack a back pack with whatever toys, coloring books, books they want to take once it's filled that's it.
 Once again don't forget that comfort sleeping blanket or stuffed animal they need to fall asleep.
Extra Tips:
Let them get dirty. Camping is all about getting dirty, so let them. Seriously, if there is ever a time to wander around with dirt on your face and no one thinks twice about it, it's at a camp site.
In a large ziploc baggie -place their clothing for the day so they don't have to dig everything out of the duffel bag to find socks and undies.
Whatever you do don't forget extra clothing. The picture above is exactly why you should pack extra clothing. We have regretted each time we have forgotten to pack extras.
Make sure to pack the medicines you need, plus extra.  I always get headaches on car rides so it's a must that I have some Advil when I get out of the car.  Don't forget that first aid kit.
We forgot toilet paper this last time so we were rationing out the napkins.  Pack extra just in case it gets dropped in the toilet.
Fun things to pack: binoculars, compass, insect jars, hammock, family outdoor games like: bocce ball, frisbee, bicycles. We have a bike trailer so we put our baby in it and enjoy the paths.
Ice chest is good if you have lots of food that needs to stay cool. Place ice in large baggies (for a large cooler) and freeze to avoid a mess. This way you can also reuse the water.
Plastic trash bags are great to use for trash, dirty and wet clothes and for those little ones who can't stay dry at night. We place the bags under them so if they have an accident at night it doesn't get everywhere.
If you forget toys don't worry they will figure out how to play with nature.
What are some of your camping with kids tips?
Other articles you may like:
Camping Activities for Toddlers