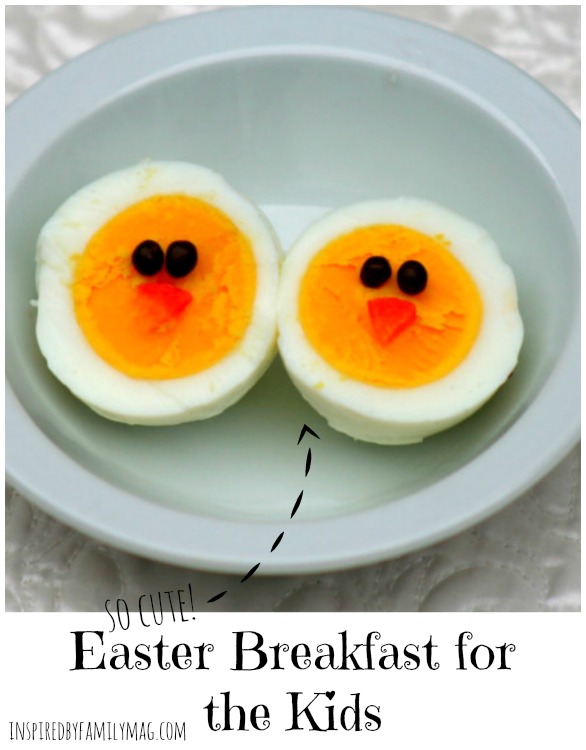 Are you looking for a kid-friendly Easter breakfast? This is the easiest and cutest little food you will ever make.  These little chicks are absolutely adorable and easy to whip up.
Before I had three kids I had more time to make cute food but now my mornings are rushed so there is no cutsie lunches leaving our house. Seriously, I used to have little kids in my boys class stop me in the hall and ask me if I was Ethan's mom and then proceed to tell me to make them their lunch for them. This doesn't happen anymore. I occasionally surprise myself and I will make something ahead of time but that really is occasionally.
Anyways, aren't these eggies so cute! Serve it for Easter brunch gathering, for a snack or in their lunch.
Easter Breakfast Eggs
How to:
Boil eggs.
Let them cool.
Cut them in half.
Use carrots for the beak and raisins for the eyes.
Note: My husbands tip for boiling eggs is to boil the water first and leave them in for 10 min. One year I decided to try lots of different methods for boiling and this is what works for me see my tips here.
That's it!
Here are 2 more fun ideas:
Easter Deviled Eggs from Real Mom stop by and get the recipe.
Eggs in a Potato Nest from Yummy Mummy they also have a video if you need a live visual. I am loving the orange and grapefruit chickie slices!
For other egg post both edible and crafty visit here!