I am a big believer that History can be fun!  I enjoyed history as a child, it all was so fascinating to me.   My son is a visual learner so he actually takes in more when we make it practical and hands on.   I will share ideas below that are crafty and some that are beyond crafts and also a great book that I recently ran across that makes history come alive.
For example, this past week we were studying Native Indians so he made this Chief Headdress.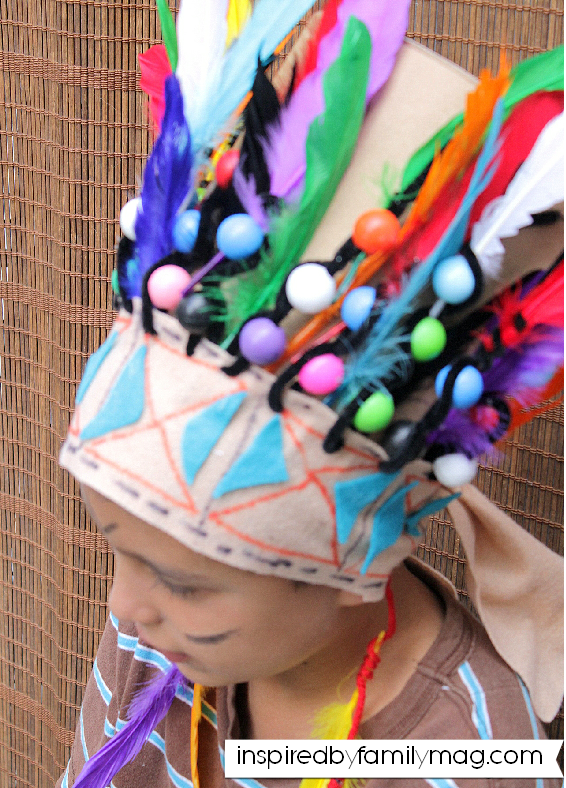 We are reading some Living Books for our history and right now we are on Walk the World's Rim by Betty Baker and if you've read it with your child you will quickly remember it was a doozy.  I personally have enjoyed it as an adult but my son is really captivated by it.  So I've been trying to find ways to liven it up a bit.  He wears his headdress and I wear mine when we read the story.
I recently had the opportunity to review a history book series that first started with Ann Voskamp and this third book in the series is A Child's Geography by Terri Johnson is fascinating.
For example, the book is filled with lively pictures and each country you study has insightful questions, activities, crafts and recipes to help bring it to life if you want that hands-on component.  It comes with CD filled with wonderful resources to liven up your lesson for the day.  It's good for children from 1st – 6th grade.
"Imagine walking in the footsteps of Socrates, Alexander the Great, the Apostle Paul… See and understand ancient civilizations and great empires from what has been left behind and carefully preserved. Hear the stories passed down from generation to generation, before the advent of paper and printing presses. As we explore the Classical World, you and your family will delight in incredible, mysterious landscapes, hidden wonders and beautiful peoples – all created in God's image."
The first chapter is about Greece one of the activities you can choose from is to hold your own backyard Olympics and make their lesson come alive.
Enjoy our Olympic activity here  my boys and their friends made medals and we enjoyed some of the different Olympic sports in our own way.
If you're not into activities or crafts you can just map out your trip. Maps are provided on a pdf file but the book is also filled with maps.
So to wrap it up I will summarize ways you can make history fun and also share with you a fun giveaway with over $600 in prizes. You can go here to get enter the giveaway.
How to Make History Fun
1. Create something that goes along with the history your studying it doesn't have to be major paper cutting project. You can use play dough or just find a coloring sheet online.
2. Find recipes online that you can try as a family. This will get your whole family involved in the learning fun. A Child's Geography has a CD included with the book and some recipes available for you to enjoy.
3. Enjoy an activity revolved around the history lesson your studying.  It can be a simple activity or an afternoon filled activity.  Go on a people watching field trip. Go to the park and observe everyone's clothing and discuss how it is different from what the Greeks used to wear or what the Indians used to wear. How it's similar?
4. Map – Find a map and chart your history course every time your at a new place in your history lesson. This gives your child a visual and who knows maybe one day you all will be able to visit.
5. There's nothing more hands on than visiting the place your studying.  For some of us that may not be possible but go online and check out if there are any museums in the area that have exhibits featuring  the history you're learning.
I can't wait to use this in our history school year for my boys.  Thanks you Knowledge Quest for the lovely book you sent us!