I love chipotle and I try to sneak it in to as many recipes as possible.  Though the smoky and tangy flavor is not one you can truly "sneak" in without someone noticing.  This Chipotle Pumpkin Hummus is the perfect way to get your family to enjoy some healthy snacking.  In my opinion, if you don't add too much chipotle seasoning all it does to the hummus is give it a smoky flavor which some of you may prefer.
I was asked to write a recipe for one of the brands I've been working for this month of November but at the last minute I changed my topic to 8 Scrumptiously Delicious & Healthy Holiday Recipes.  So I was left with a bowl of amazing hummus and a post to share on my blog! It was a win win situation for me!
I had a hard time deciding to make either Curry Pumpkin Hummus or Chipotle Pumpkin Hummus because both of those combinations are amazing when making a savory pumpkin dish but I went with Chipotle!
If you're not already doing so you can follow along and get all of our recipes, crafts, home décor, kids activities, parenting articles via: Twitter, Pinterest or Facebook and our readers preferred way via email.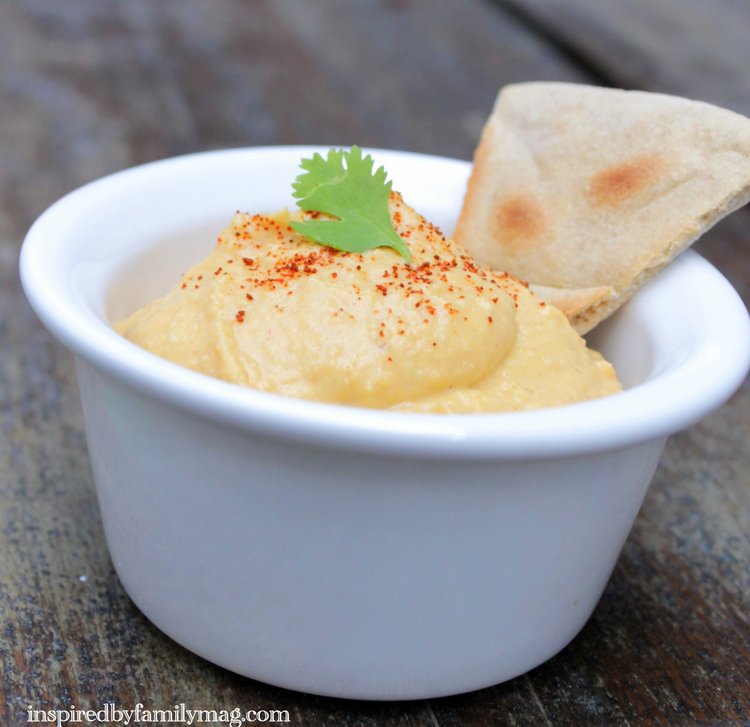 Chipotle Pumpkin Hummus
1 can garbanzo beans and 1/3 c liquid from garbanzo beans
1/2 c canned pumpkin puree
2 tablespoons tahini
3 cloves garlic roasted
1/2 -1 teaspoon ground chipotle (depending on how spicy you like it)
1/4 teaspoon ground cinnamon
1/2 teaspoon salt
2 teaspoon cumin
 5-7 teaspoons fresh lemon juice
 2 tablespoons extra virgin olive oil
 Just in case you're wondering a garlic clove is only a segment of the bulb. Roast your garlic in a griddle and turn over as it browns. Make sure it doesn't burn just slightly toasted on all side. Some people use oil, I personally don't.
Place all of the above ingredients in a food processor or blender.
Add more oil or salt according to your liking if you wish.  Oh, and when I didn't have chipotle seasoning or canned adobo chipotle I would cheat with a bottle of chipotle flavored hot sauce.
Now I'm off to enjoy this healthy snack with my kiddos!