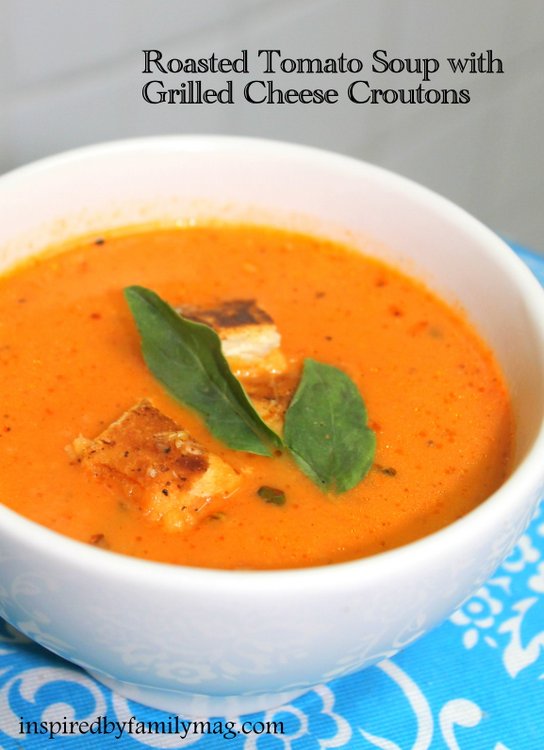 ~ The secret is in the roasting~
This Creamy Roasted Tomato Basil Soup is award winning as far as my family is concerned. They LOVE it! My kids rave about it and ask for seconds and want it for lunch leftovers.  I've been tweaking the recipe for years and I finally got it to what I consider as better than Le Madeline's tomato soup.
My kids especially loved the grilled cheese croutons that I added this time around.  Enjoy warming up your soul this winter with this delicious soup!
Creamy Roasted Tomato Soup & Grilled Cheese Croutons
INGREDIENTS:
4 tomatoes
2 tablespoons olive oil
1 teaspoon salt
1/2 teaspoon pepper
4 garlic cloves
1  medium chopped onion
4 cups chicken broth or use bouillon cubes
3 tablespoons of  brown sugar
2 tspns of oregano
2 bay leaves
2 slices of bacon (optional)
1 med red bell pepper
1 cup heavy cream
1 tsp of fresh basil chopped and to garnish
1. Heat the oven to 400°. On a baking sheet, combine the tomatoes, red pepper sliced in fours, 2 tablespoons of the olive oil, 3 garlic cloves and the salt and pepper. Toss the ingredients to coat evenly and spread them in a single layer. Roast until they are shriveled with brown spots, about 15 minutes. I like to put foil over the pan so that the oil doesn's splatter all over my oven walls.  Or you can roast them over the stovetop on a griddle that only takes about 10 minutes (just keep turning them over).
2. In your large pot, cook bacon; remove. Add onion to bacon grease and sauté until it's clear, about 6 minutes. Add the broth, 2 tblspn sugar, oregano, bay leaves, bacon and the roasted ingredients, including any liquid on the baking sheet. Bring the mixture to a boil, then reduce the heat and simmer, partially covered, for 10 minutes.
3. Using a blender, puree the soup but remove bay leaf. Leave in bacon if you want (I usually puree the bacon). Return it to the pot and stir in the cream, bay leaf and if you need it to be a bit more sweeter add in the last tablespoon of sugar. Don't let the soup come to a boil, warm it over medium heat, stirring often, until steaming about 10min. Add salt and pepper, as needed.
Serve with grilled cheese croutons. These are simple to make. Just make your grilled cheese as you normally would but make it slightly toasty than normal and then cut into squares.
Enjoy!