We have been "decking the halls" in our home with lots of Christmas cheer! My 6 year old still enjoys crafting so he is usually my little helper and today we made this Santa wreath and a fun little nativity scene using toilet paper rolls and scrap fabric.  They both turned out adorable and I can't wait to show you the nativity scene.
This DIY Christmas Decor: Santa Wreath was super easy and inexpensive to make it's also perfect for those little hands that like to craft in your home. In fact, gather them around to make those tissue paper circles.  I started making it out of ribbon but then it was too puffy and decided to go with tissue paper. This Santa Wreath only cost me $1.50!  I haven't figured out where to buy circle wreath styrofoam here so I just bought a piece of circle styrofoam and I cut out the middle.  It took me about 30 minutes to put together.
Happy crafting!
Santa Wreath
Supplies:
Styrofoam
red tissue paper
crafting glue or hot glue gun
black felt
silver ribbon
1. I made Santa's belt first. Cut out a long narrow piece of fabric that will wrap around your wreath.
2. Then cut 4 pieces of silver ribbon to make the buckle.
3. Then adhere buckle to the center of the black belt.
4. Now to start making the red part of the wreath. You will need to start off by cutting out 50 small – medium size red circles. I just used a cup and traced the end to my tissue paper to make a circle.  (The easy way to do this if you don't own a circle puncher is to fold your tissue paper lots of times over until it's the size of the circle you want. Trace and cut your circle and voila you have at least 15 circles from one cut).
5.  Just loosely pinch the end of the tissue paper circle and glue until you've covered the whole wreath. It should have a fluffy look to it.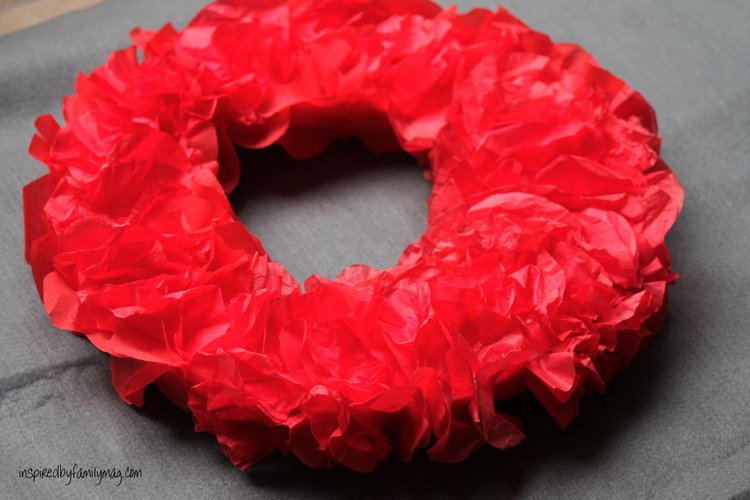 This Christmas joke is courtesy of my 6 year old: Why does Santa?  Because he's a black belt.   Enjoy your holidays!