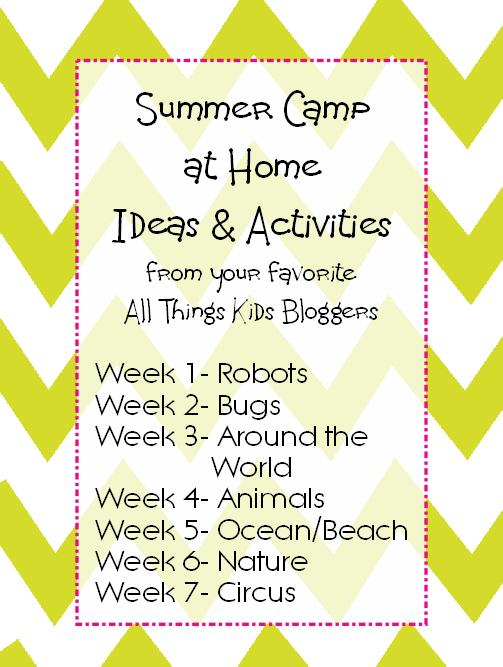 The All Things Bloggers united to bring you chock full of ideas for your summer camp at home!
You can also check out our Flexible Summer Schedule that we've used for over 3 years now. It builds into our summer a little bit of routine but with flexibility. Something to look forward to each day and the 5 things we require of our kids without having to occupy each hour of your day.
Make sure you stop by all summer long to check out the fun– at the end of the week you'll have an awesome resource for each of the themes above.
My kids are animal lovers so it was easy for me to put together a collection of Animal Theme ideas for you to enjoy this summer.
Summer Camp at Home: Animal Activities & Snacks
Small World Play Animals at the Lake from Sugar Aunts
Caterpillar and Butterfly from Inspired by Familia
Animal Hand Prints from House of Burke
Frozen Banana Penguins from Reading Confetti
Polar Bear Science Craft from Sugar Aunts
Pretend Play Vet from Mess for Less (image above)
Animal Coloring Pages for Kids from Frogs, Snail and Puppy Dog Tails
Alligator craft from Inspired by Familia
Parrot Collage from House of Burke
Penguin Activities from Sugar Aunts
Fun Ladybug snacks from Inspired by Familia
Pretend Play Pet Groomer from House of Burke
Fishing Game with printable from Inspired by Familia (image above)
Learning with Animal Flashcards from House of Burke
Octopus from grapes and apples snack from The Southern Housewife
Chocolate Pudding Piggy Sensory Play from House of Burke
Dinosaur Games, food and activities from Inspired by Familia (image above)
Elephant Mask craft from Mamas Like Me
Pretend Play Baby Zoo from House of Burke
Crab from apple snack from Meet the Dubiens