Dinosaur Mud Play
I walked out our front door to check on the boys and I couldn't believe my eyes. What started off as tamed and organized mud play was quickly taken to the next level when I wasn't looking.  They took the Dinosaur Mud Play station I put together for them to the next level by involving their whole body in it. I guess he needed a whole body sensory experience.
I normally would've been really upset especially, since I have so little time in my day and cleaning up another unexpected mess is enough to throw me off.  Thankfully, I'm learning that in his sensory messy mud play he's learning and experiencing the world around him.  So, I just looked at him and laughed and he continued playing.
You can totally enjoy this mud play station without ending up with a little one covered in mud so don't let my carelessness scare you.  I would even do this in the classroom for a dinosaur theme or inside my house for a dinosaur birthday party or play date (well depending on the child who was over).  Just don't leave the kiddos unattended for more than 3 minutes, at your mud play stations unless you want to come back to a mud war zone.
Well, here's my organized and tamed Dinosaur Mud Play station.
As I mentioned before the theme of our week is Dinosaurs so we've enjoyed exploring them and it looks like he added other fun characters in his Dinosaur Mud Play station.
On Friday I will share our lesson plans for our Mommy & Me Preschool week 1 lesson on Dinosaurs.
Follow along via your favorite social network so you don't miss any of our fun family articles: Pinterest Facebook or Twitter and our readers preferred way via email.
Here are some more fun dinosaur post (just click on image):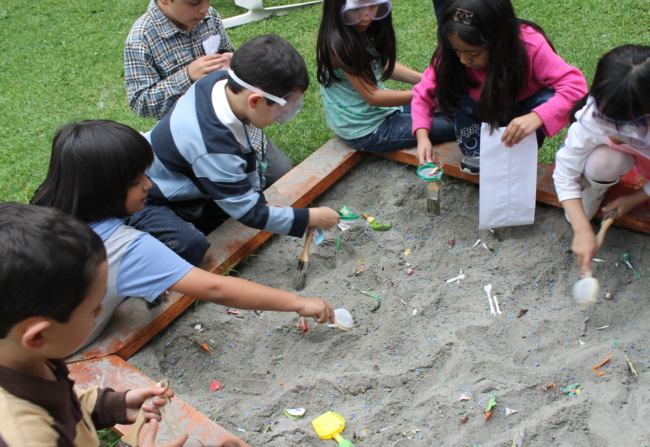 6 Dinosaur Activities for Kids