I'm always impressed with the costumes our friends come up with each year. Especially if you take into consideration that we have no Michaels, Joanns or Hobby Lobby stores here.
This was our Halloween costume last year for a couples Halloween party that we attended–Bob Ross and Canvas duo. We actually won a prize for it. I grew up watching Bob Ross at a very early age probably around the age of 4 or 5. My inner creative was immediately inspired and I haven't stopped since. I remember watching him and actually thinking I was painting exactly as he was.  So, in my proud moment, I decided to take my artwork to school and show it to my kindergarten teacher. She was thoroughly amazed and expressed so much interest in it, she then put my art work up on display. I'm sure it wasn't amazing but she made me believe it was and that made all the difference.
Creative Costume Ideas for Couples
This Bob Ross costume was so easy. We just bought a wig and I already owned the painting stuff, frame and leaves.
This one from our party was one of my favorites- Ma and Pa Ingalls.
I would never have thought of this fabulous idea–Priest and nun costume!
This was clever–Lightning storm duo costume. Also, another easy no sew costume to whip up.
Or this Viking  couples costume is fun, minus the cute little bewildered dragon. You can get the tutorial here.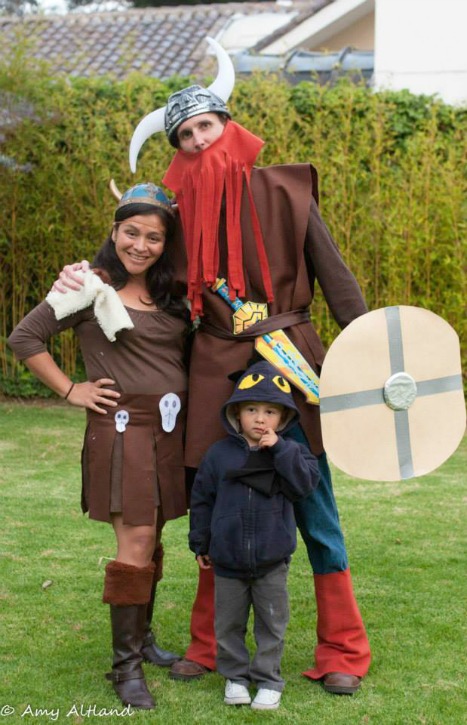 This one is so clever–piñata and the little girl hitting the piñata. I never would have thought of this costume but it was absolutely so creative and not to mention–simple!
I grew up watching this old show–I Love Lucy! Find the details here.
I love all the "around the house" material they used to make this Inspector Gadget costume. Get details here.
Aren't they just cute?  You're never too old for Peter Pan and Tinkerbell!
If you have suits or Goodwill nearby this Blues Brothers costume is so fun. Get the details here.
Guess what we dressed up as last year?
As a counselor, I absolutely loved the movie Inside Out! It was another easy costume. I bought a blue wig and the glasses were from my boys pretend play box. I had a long cream sweater dress so I wore that with tights. My hubby was Anger and I simply used red tissue paper for his hair. What's funny is he is not in any shape or form an angry person so he struggled staying in character.
Lois and Clark! Last year we went to two Halloween parties so the Inside Out costume was for our family friendly party and this one was for our Couples party. Our costume was straight out of our closet. He didn't own a Superman shirt so I simply printed out the logo online and taped it to a blue t-shirt.
Lois and Clark! I love that Leigh Anne and her hubby really get into dressing up.  Get the details here.
And here they are again as Mary Poppins and Bert. Get details here.
This is a fun one from some friends back home.
An senior citizen tourist couple costume! This is from our friends 40th birthday bash, we were asked to come as old people. Absolutely hilarious!
Aren't these so fun and clever!
Want more?
Check out our post below for more Halloween fun ideas.
Last Minute DIY Halloween Family Costume Ideas