I don't know about you but our school year is coming to an end!
Hooray! Hurrah!
Around this time of the year I'm usually ready to be done with school morning routines, home work assignments, special snacks, meetings… And well you get the gist we are all ready for the summer.
Usually in the midst of the end of the year exhaustion and not to mention chaos, I end up forgetting to appreciate my boy's teachers but I truly want to thank them. So this year , I came up with this simple but appreciative way to say "GRACIAS!" to the teachers who invested in the lives of our kids. This gift idea is EASY and adorable if I do say so myself.
It's a simple way to say "Thank You" for all that our teachers do to help our kids through out the year and your kids can help put it together.
I have a few printable tag versions for you to chose from:
"You're the "Beary" Best!" you can use this for anyone at the school.
"You're the "Beary" Best Teacher!"
"Thanks for a "Beary" Awesome Year!"
"You're the Beary Best Principal!"

Teacher Gift: You're the Beary Best!
Supplies:
jar
ribbon or washi tape
Surf Sweets Gummy Bears
printable tag click here to print beary best teacher
1. Fill your jar with the delicious organic Surf Sweets gummy bears. Surf Sweets just launched their no artificial colors or flavors, yummy candy at your local Target store. Oh and they are free of corn syrup, they use organic ingredients and made in the USA!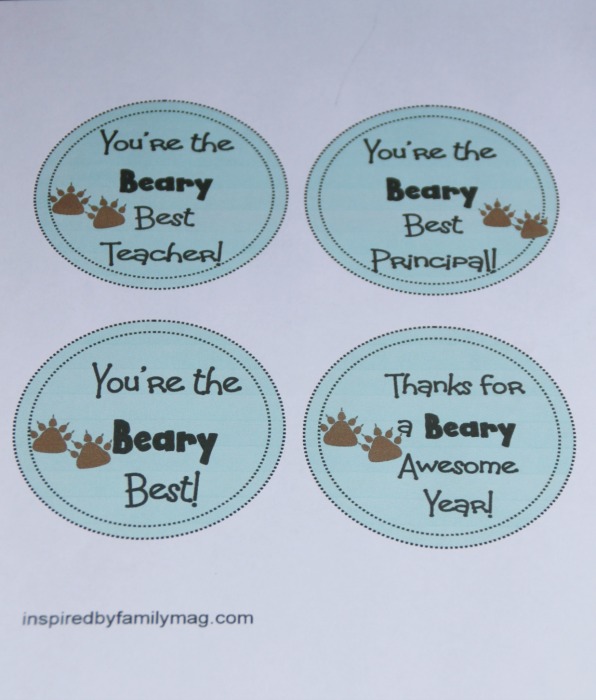 2. Print off your tag and adhere to the jar.
3. Decorate the jar with your ribbon or washi tape. I used washi tape, it's easier and super cute!
All done! Told you it's super easy to whip up a few of these to thank the people who have invested in the lives of our children!
We are also giving away a prize package of these delicious gummy candy for you to enjoy at home and get this a $50 Amazon Gift Card! Just enter below!
Oh and I have a great coupon to save you some money on your next SurfSweets candy purchase. Just go here and you can get a $1.00 off!
This post is sponsored by Surf Sweets through the Amplify Influencer Network. All thoughts and opinions are my own.