Summer is here! What better reason to have a party!
We are celebrating with a Summer Bash Soccer Party! I contemplated including my kid's friends in our gathering, but our life is a bit chaotic right now. After much deliberation and going back and forth with myself, I was okay with a small celebration. Sometimes saying no to ourselves is the hardest.
It doesn't take much to make my kids happy! So our small summer bash was a big hit regardless of the size. They loved it! They especially loved the Malt-O-Meal soccer cereal bars!
Before I forget make sure you follow along via your favorite social network so you don't miss any of our fun family articles :Pinterest Facebook or Twitter and our readers preferred way via email.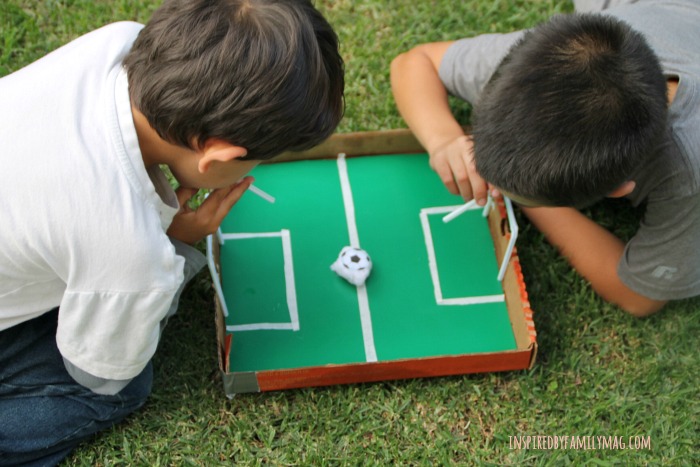 This diy Cotton Ball Soccer Game was also huge hit with my kids! Mexico played in the big soccer game yesterday and they tied with Venezuela, so I took this opportunity to talk about the big game! In my party decor, I used flags from different countries that have soccer teams, so I had my kids choose a country for their team, and we rooted for our country as we played our cotton ball soccer game. If you're following the big soccer game it's easy to tie in some educational material to the fun.
Summer Bash Soccer Party
Decor
Our decor was simple but cute! I used ribbon, green paper and soccer ball prints and flags from around the world. For the banner, I went online and looked for a free soccer ball printable and cut them out to use for decoration. The green triangles are just construction paper but I'm sure you can also just purchase a set of green bunting.
The dessert table center piece is made from the soccer ball prints and the flags from my favorite countries.
I also made some soccer ball marshmallows that served as decor and treats.
I found some fun soccer jersey printables and cut those out. Since our family regularly enjoys snacking on cereal we made the fun jersey cups and filled them with one of their favorites, Tootie Fruities®.
Food:
We are going for simple with this summer bash, and these treats were exactly that!  They are easy to whip up and can be enjoyed throughout the summer! Another lovely thing about this recipe is that your kids can help you make it and it's a fun way to have some bonding time with them.
Malt-O-Meal Soccer Cereal Bars
Ingredients:
30 large marshmallows
6 cups of Malt-O-Meal® Coco Roos
3 tablespoons of butter
white icing
6 pretzels
1. In a microwave you'll need to place 30 large marshmallows in a large microwave safe mixing bowl and add 2 tablespoons of butter to the mix.
2. Place the bowl in a microwave for 1 minute. It will get really puffy so keep your eye on it. You may need to add an extra minute, it should have a creamy consistency like the marshmallow cream you buy at the store.
4. Add your 6 cups of cereal.
5. Mix with a spoon until the cereal is completely covered in the marshmallow goo.
6. Start pouring your mix onto a rectangular cake pan and let it cool.
7. Then add your frosting. You'll need to do two layers to cover the Coco Roos. I learned from my mistake the first layer was too thin and it just looked lumpy. We made our own frosting but you can purchase white frosting and add green food coloring if you can't find already made green frosting. Cover your soccer field bars with green icing.
8. Then use  the white icing to define the field lines and add your soccer ball.
Activities:
Watch the big soccer game as a family and discuss some fun facts about the countries playing.
Have your own soccer tournament! I have one son who particularly loves soccer so he regularly asks us to join him outdoors for a game of soccer but if you want to stay inside you can enjoy this DIY Cotton Ball Soccer Game.
Isn't this soccer game version so fun! My kids loved it so much they wanted to play it for our family game night. It was so easy to make! I just recycled pizza box and the soccer ball is made from a cotton ball and then I glued a soccer printout on top!
Notice on the side I made a simple score keeper out of cereal! Isn't it so clever!
This fun post is sponsored by Malt-O-Meal® but all opinions are my own!