Hispanic Heritage Month is a wonderful time that Latinos unite in spirit across the globe to honor our traditions, our heroes, our culture and our roots. This multicultural quilt of colors, languages, flavors and sounds are what making our Latino community so rich.  Let's celebrate!
So to celebrate, join us as we virtually travel through Latin America & Spain with our amazing 12+ Hispanic bloggers from our We All Grow Latina Network who will be sharing with us their activities, ideas and recipes that help them pass on their traditions!
Celebrating Hispanic Heritage Across Latin America & Spain
We are so excited to bring you this blog hop! We will begin our travels in Mexico! Here's our schedule so you can follow along. I'll be coming back throughout the month to update you with the activity, idea or recipe that each blogger will be sharing!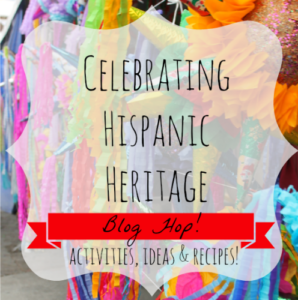 Throughout the month, go to Inspired by Familia to get the updated schedule and follow along. Here are the wonderful Hispanic bloggers participating  Mama Latina Tips, Mommy Maestra, Embracing Diversity, Your Sassy Self, Hispanic Mama, Guapologia, Mama Educa, Inspired by Familia, One Post At a Time, La Cooquette, Spicy Latina Mom, Nerdvana Kingdom, LadydeeLG 
Consider yourself warned you may gain some pounds in our travels!
September
14th –Mexico! Siliva from Mama Latina Tips is sharing her amazing Tacos Al Pastor Recipe. There's nothing like passing along your heritage than through food!
15th –Spain! Monica from Mommy Maestra shared a fun printable Spain Coloring Activity in English and Spanish! Also some other great resources for teaching your kids about Spain.
15th –Domincan Republic! Dania from Embracing Diversity shares ideas on how she passes on her Dominican Republic heritage to her children.

16th –Mexico! Rocio from Your Sassy Self shares ideas and delicious recipes from Mexico!
17th –Ecuador! Linda from Hispanic Mama  shares great ideas– 7 Ways to Teach Children about Ecuador
18th –Mexico! Paty from Guapologia shares an amazing Chocolate Lava Cake with Caramel Tequila sauce!

19th –Puerto Rico! Marielisa from Mama Educa educates us on the 8 most common words used by Boricuas (Puerto Ricans).
20th -Mari from Inspired by Familia shares Spanish Language Activities for Kids and her No Hablo Español story.
21st -Mexico! Olga Davis from One Post At a Time is sharing her yummy cheese enchilada recipe.

21st -Honduras! Maria from La Cooquette shares her delicious Honduran Heritage with us.
22nd -Laura  from Nerdvana Kingdom
23rd -Mexico! Laura from Spicy Latina Mom shares 5 delicious Mexican recipes with us.
24th -Ecuador! Diana from LadydeeLG  shares her Mom's Torta de Choclo recipe!
Other post you'll enjoy: