I have received information and materials from ©Johnson & Johnson Consumer Inc. 2017.The opinions stated are my own. This is a sponsored post.  #ForBetterTomorrows #BetterTomorrows #FallBack #CollectiveBias
Below I'm sharing the benefits of a 10 Minute Yoga Routine for Busy Moms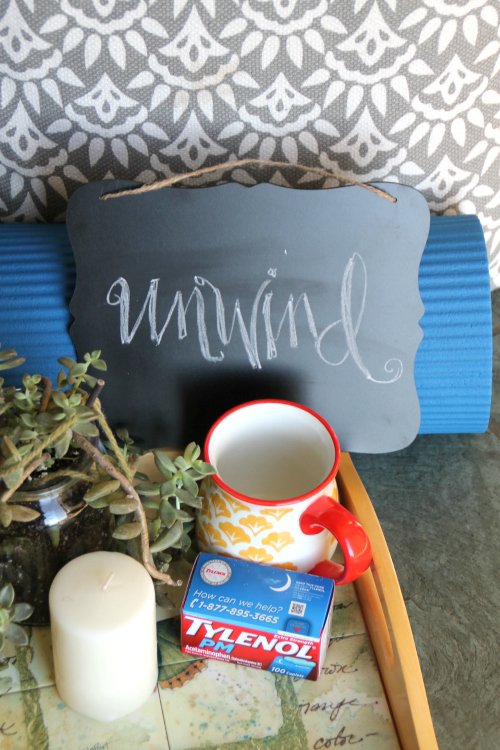 Hover over picture above and click on the tag to find out more.
You know that movie with Jack Nicholson  "Somethings Gotta Give"?
That title describes exactly where I found myself one dreary afternoon.
Something had to give, if I was going to make it out of motherhood sane. I wasn't sure what exactly needed to "go" but I knew where I needed to "give".
I needed to start giving to myself.
One way I take care of myself is by enjoying the outdoors! It's peaceful, relaxing and it helps me destress.
Since our whole family loves to hike and enjoy the outdoors so we do this activity together quite often. But when I'm on my feet for more than 5 miles my body starts to feel it. Using TYLENOL® PM to relieve the minor aches especially after a long hike has helped me get better sleep.
Yoga to the Rescue
I don't always have the time to go hiking so I have found that Yoga is just as peaceful, relaxing and it helps me destress in the comfort of my home.
Yoga was not only what my body needed but my soul as well. My goal every week is to do Yoga stretches for 10 minutes every day.
In the midst of stressful and mundane tasks it helps me start off my day remembering verses, my intentions for the day and I was more relaxed.
How To Get 10 Minutes a Day
I simply go online and look for one of my favorite yoga instructors–Caroline Williams. I go to another room while my kids are eating breakfast, working on their assignment or watching tv and then I enjoy 10 minutes to myself.
Sometimes they come in and interrupt me and if they are not hurt I simply tell them, "Just give me 10 minutes and then I can help you." Usually, they can wait or used to set the timer for my little guy so he knew when the 10 minutes were up. They have learned it's my time so when they call my name and come looking for me and I'm on the yoga mat–they simply walk away.
As moms we also know what daylight savings does to our children–they wake up earlier! As if we needed that. So, with fewer hours of daylight upon us, a good night's sleep and energy through out the day is as important as ever. The days seem longer and we are on our feet more.
The Benefits of 10 minutes of Yoga for the Busy Mom
Calming techniques- The breathing DOES really help. It's not just a mystical thing you do to look cool but it's been scientifically proven that taking deep breaths allows oxygen to enter your brain therefore giving you opportunity to let go some of the stress.
Helps you sleep better. The poses help relax your muscles and encourages mindfulness. Which are great reasons why you are sleeping better after a few weeks of yoga stretches.
Eases aches. After an intense activity or I've been on my feet all day sometimes my body aches towards the end of the day. Usually after I do some yoga I feel better and if the minor aches persist I have been known to take a TYLENOL® PM (use only as directed) which you can find at your local Walgreens. It will help you get adequate sleep and ease the minor pain.
 It helps relieve the aches and I get a full nights sleep ready to conquer my family-filled day.
Increased Flexibility- A regular yoga practice stretches and tones the muscles and helps improve posture.
Improve balance. One of the main things Yoga works on in each pose is strengthening our bodies. I never thought I could do a simple Mountain pose but as I worked on my poses each day for 10 minutes I got to the point where my one leg poses were less wobbly.
Gives you peace of mind.
Reduce Mental Stress- Forget the "mom brain" forgetfulness.


I like to refer to yoga as 'taking out the trash' physically and mentally," Shaw says. "By reducing mental stress and physical tension, we are able to recall easier and have more organized thoughts. Improved cognitive function happens when we are able to clear our minds and refresh. From a place of peace and calm, we are able to use our mental facilities more efficiently."

Gives you Inner strength.
Encourages self care. As moms we need to take care of ourselves so we can take care of our families. The 10 minute pause we give ourselves in the day doing Yoga poses helps you energize yourself and focus throughout the day.
Self Awareness – We have the opportunity to become more aware of our body.  As we go through each pose we discover what new things our bodies can do.
I've also been known to stop in the middle of the daily chaos at home and practice my breathing techniques I've learned in yoga.
You can find TYLENOL® at your local Walgreens.
TYLENOL® PM contains a pain reliever and nighttime sleep aid. ©Johnson & Johnson Consumer Inc. 2017 The third party trademarks used herein are trademarks of their respective owners.