This shop has been compensated by Collective Bias, Inc. and its advertiser. All opinions are mine alone. #MyLiteracyStory #DGMyStoryEntry #CollectiveBias These 15 children's books that foster empathy and kindness in our kids.
It was Saturday morning and our family got out the door early.
We had been eagerly waiting for this day all summer. We had planned and prepared our hearts for this project.
A few months earlier I approached a some government workers in Ecuador and asked if we could use their building for a Read & Dream Summer Reading project. They immediately said, "Yes!".
The park wasn't full yet but there were lots of families around. I found a little girl with her family sitting around the playground. We handed them a flyer the mother read it and just smiled. A few seconds later the little girl and her siblings are running after me. They excitedly followed us around the park to make sure they didn't miss our Read & Dream Summer Reading project.
This little girl's excitement was contagious! She helped us invite more children and before we knew it we had a crowd of kids ready to listen to a story and enjoy a craft with our family.
Our family has been involved in service projects since my little guys were babies. The older they get the more intentional I like to be about connect their hearts and minds to the project.  So one of the things I have been doing for a few years now is adding books about service, compassion, empathy and struggles to our family library.
When I homeschooled we leisurely read in the morning at breakfast as we enjoyed one of my favorite cereal Rice Krispies®. You can figure out the time that works best for you to enjoy reading through this book list and help foster empathy and kindness in the hearts of your little ones!
I am excited to share with you what Kellogg's & Dollar General literacy initiative to support the great things that literacy can do to help people achieve their full potential. Kellogg's is committed to providing 3 billion Better Days through 2025 through initiatives that feed people and their potential. The Dollar General Literacy Foundation is celebrating over 20 years of helping individuals learn to read, prepare for their high school equivalency, or learn English.
Since its inception, the Foundation has awarded more than $140 million to nonprofit organizations and schools that have helped more than 9 million individuals advance their literacy and basic education skills.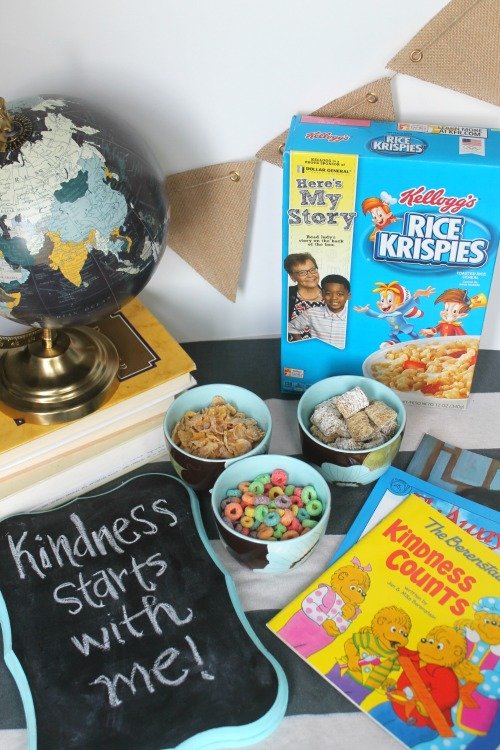 Kellogg's is a proud sponsor of the Dollar General Literacy Foundation. Every day, Kellogg employees work together to fulfill our vision of enriching and delighting the world through foods and brands that matter. Click on the image above for more information.
These books give us some great examples of experiences (sometimes real life) of children and families who are struggling and their perseverance in the midst of it. It provides us with great discussion and role play as a family. In the image below I made oobleck with the kids at the Read and Dream project to go with our book reading.
15 Books that Foster Empathy & Kindness in Our Children
These are great books to have a great discussion with your children about empathy and kindness but they can also encourage your kids to find ways to serve in their community whether it be at home, school, church… You can click on the affiliate links below to get a brief storyline synopsis and to purchase the book. You can also click on the free printable below and take it to your local library.
Wonder by R.J. Palacio is a fascinating and well written story. We read it as a family and all of us thoroughly enjoyed it. My kids were 5, 9 and 12 and they were all able to get something out of it. The movie is coming out in mid November so buy your copy and read it together before then. Then have a family date night and watch the movie together.
Those Shoes by Maribeth Boelts
What if Everybody Did That? by Ellen Javernick
Last Stop on Market Street by Matt de la Pena
Tight Times by Barbara Shook Hazen
Stand in My Shoes by Bob Sornson
The Royal Bee by Frances and Ginger Park
Beatrices Goat by Page Mcbrier
The Invisible Boy by Trudy Ludwig
The Jelly Donut Difference by Maria Dismondy
Fly Away Home by Eve Bunting
A Shelter in Our Car by Monica Gunning
The Story of Ruby Bridges by Robert Coles
Uncle Willie and the Soup Kitchen by Dyanne Disalvo-Ryan
Ordinary Mary's Extraordinary Deed by Emily Pearson
I made a printable for you so you can just have these books posted on your fridge. You can put a check by them out as you get them read.
Free Booklist printable:
Click here to download your booklist: 15 Books on Empathy & Kindness
Want more?
If you love our ideas follow us on Twitter, Pinterest or Facebook and our readers preferred way via email.
You can learn more about the literacy initiative, and Kellogg's Frosted Flakes® Cereal, Kellogg's® Froot Loops® Cereal, Kellogg's Frosted Bite-Size Mini-Wheats® Cereal, Kellogg's® Rice Krispies® Cereal by going to their website. Go to the link  HERE to enter the #DGMyStory Sweepstakes with the hashtag #DGMyStoryEntry and share your own personal literacy story for a chance to win a $50 Dollar General gift card.