This pumpkin shaped cheese ball was a hit at our Halloween party last year. Check out the pictures below of some of our Halloween party fun!
The great thing about cheese balls is that they are super easy to make and you can quickly whip it up but you will need to chill it after you put it together so give yourself some time. So if you're needing to bring party food to your next gathering this is the perfect little treat.
If you are new here and you don't want to miss our fun posts follow us via Facebook, Twitter or  email.
Pumpkin Cheese Ball
Ingredients:
16oz cream cheese, room temp
2 cups cheddar cheese
3 tbsp minced onion
1 tsp ground cumin
2 cups nacho cheese chips, crumbled
bell pepper stem
optional: 3 tbl salsa
1. Combine all of the ingredients except chips and bell pepper stem and mix well.
2. Scoop mixture onto plastic wrap and wrap it into a ball. Chill for at least 2 hours.
3. Roll the ball onto the nacho cheese chips until it's completely covered. Pat it down so they will stay in place. The cheese ball pictured above is not rolled in nacho cheese chips my friend made this one. Feel free to leave the crunchiness out but it does taste really good with the chips on top.
4. Top with the bell pepper stem.
Enjoy with chips, pretzels, pita bread or veggies. If you have some left over you can slap it on some bread
Here's a picture of the kids at the party.  I love this costume my friend made for her son this awesome Perry the Platypus!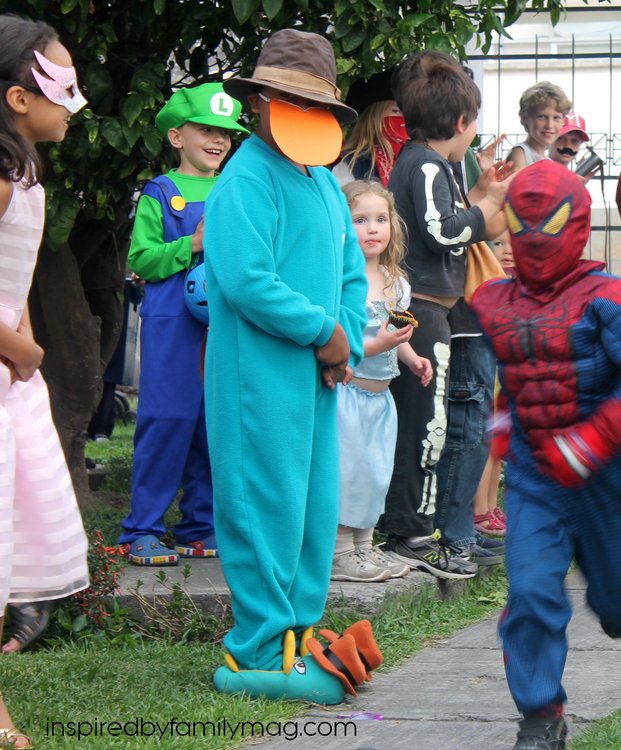 The kids had a lot of fun!