This shop has been compensated by Collective Bias, Inc. and its advertiser. All opinions are mine alone. #PrepWithPower  #CollectiveBias with Duracell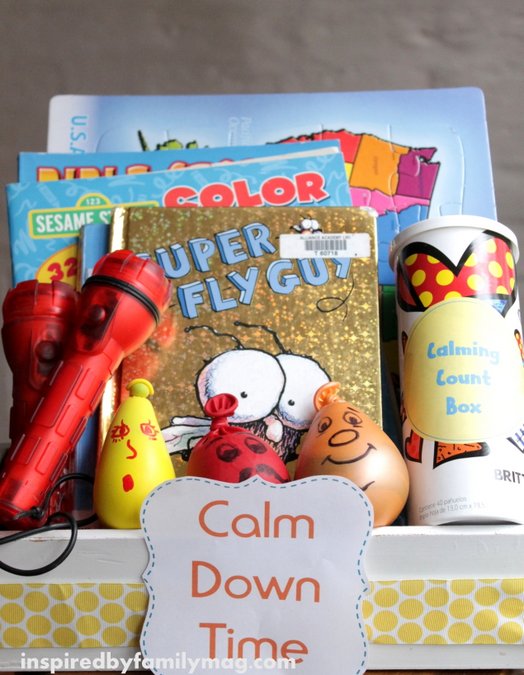 You're probably reading this because you have or know a child that needs help and encouragement to calm down or de-stress from a emotionally charged situation.  It's good to keep in mind that these type of situations can be triggered by both positive or negative circumstances.
I have a son who struggles with anxiety and stress, he is emotionally over-charged by all types of situations.  For example, when he's going to a friends house to play, he gets so excited and thinks about it all day and has 500 hundred questions about it. Or the complete opposite can happen, if he's afraid that something may happen whether it be rational or irrational  he does the same thing. Both of theses types of situations require for him to have a calm down time.
One phrase he hears a lot from us is "calm down" or "chill out".  He constantly needs this reminder.  So when I was asked to come up with some calming activities I had quite a few ideas up my sleeves.  We actually have used these activities for various situations:
Inclement weather
Traveling
Waiting for something to happen: a party or playdate
Doctor appointments
Upset and angry cool down time
What I suggest is have a "Calm Down Kit" handy around your house.  You can use a basket, a tote bag or just a plain zip-loc bag.
Stay tune for more  great articles or you can follow us via your favorite social network to get our updates:Twitter, Pinterest or Facebook and our readers preferred way via email.
Calm Down Kit for Kids & Activities
What you'll need:
Stress Balloons (make your own, see instructions below)
coloring books
crayons and/or markers
Calming Count Box
Flashlights (Duracell batteries)
Favorite books
Puzzles
calming count box using pom poms
Put all of these items in a box and have it around for when you need to put those items to use.  We are taking some of these same items on the plane with us to keep the kids calm during take off and landing.
Stress Balloons
supplies:
Play dough
balloons
markers
Fill your balloon with play dough.  This is the method I used to make this process easier on me.
Inclement Weather situations:
How to use your kit in case of an inclement weather emergency such as a tornado watch. Have your child grab their calm down kit. Always keep batteries in your kit (we like Duracell) to make sure you can use your flashlights in case of power outages to keep you safe and prepared for a storm or disaster.
Below I share some fun flashlight games to keep the kiddos calm and entertained during a weather emergency: Flashlight Beam or shadow puppets.
Flashlight Beam game requires for it to be some what dark and then have your child hit the target object with their flashlight beam. You can call out the object and time them to make it more challenging.
Shadow Puppets – You'll need a dark room and a flashlight pointing at the wall.  Then you'll place your hand in between the light and the wall and make fun shadow puppets: dogs, crocodile, bird…
Stress balloons-  can be used in any given situation.
For everyday situations:
When your child is needing some time alone or time to calm down hand them their calm down basket and tell him to go through the basket and work on some activities to help take his mind off his worries.
As I mentioned above we'll be taking some of our calming kit stuff on our plane trip tomorrow.
Calming Count Box we used it TONS during our trip especially during layovers.
Calming Jar- With this activity or the calming count box your child can practice breathing in and out deeply as they count or flip the jar over. Breathing in and out is a proven method to help our body relax.
And as always here's the shop details at Walmart: Duracell Quantum or Coppertop batteries.