This shop has been compensated by Collective Bias, Inc. and its advertiser. All opinions are mine alone. #CelebrateLosMuertos#CollectiveBias
Dia de los muertos is what we call this holiday in Mexico and other parts of Latin America, but you're probably familiar with the name–Day of the Dead.
Many people equate Dia de los Muertos to Halloween, but it's actually very religious in it's roots.  Central, South America, Mexico, Spain and the Philippines enjoy special Masses and perhaps cleaning of the cemetery tombs are part of the traditional activities… it's only in Central and Southern Mexico where the colorful parties take place in the cemeteries and elaborate ofrenda altars are built in the homes to honor specific family members who have passed on. From what I can gather it seems like the indigenous people have combined this holiday with their ancient beliefs of honoring their deceased loved ones. They believe that their deceased loved ones return every year to be with them on this day.
My kids had alot of questions about the calaveras (skulls) I used to decorate. It's always fascinating to hear what goes through their little minds–Do skeletons poop? Why do people pray for dead family members?  I love using these teachable moments to share with our children what our familia believes and  values. This is all part of the fun discovering new traditions and cultures.  I have a very vague memory of when my parents were Catholic-long, long time ago.  My mom was preparing velas (candles) with mini altars to honor her loved ones. I was too little to ask questions about it, but it was all so very interesting.
Don't miss any of our fun family articles and follow along via :Pinterest  Facebook or Twitter and our readers preferred way via email.
We love to use books to help our children understand concepts or topics from other cultures. Here are a few, just click on the link to see a preview of the book pages or read a brief summary on them!
Day of the Dead Party Spread!
Decor: This is my favorite part of the party assembling!  I kept the decor simple but celebratory for the familia.
The common decor for Day of the Dead party gatherings is Marigold flowers, Sugar Skulls, colorful lapel picado… Here's some Calavera history I found over at Mexican Sugar Skulls website:
"Mexico, abundant in sugar production and too poor to buy fancy imported European church decorations, learned quickly from the friars how to make sugar art for their religious festivals. Clay molded sugar figures of angels, sheep and sugar skulls go back to the Colonial Period 18th century. Sugar skulls represented a departed soul, had the name written on the forehead and was placed on the home ofrenda or gravestone to honor the return of a particular spirit. Sugar skull art reflects the folk art style of big happy smiles, colorful icing and sparkly tin and glittery adornments. Sugar skulls are labor intensive and made in very small batches in the homes of sugar skull makers."
So we made all things calavera for our decor. We made skull banners, skull lanterns (see picture below), mini skulls to place on the flowers and skull mandarin oranges, these were my favorite.
Food: And food is always the best part of a party for mi familia! Here's a list of our spread:
Nacho Bar – Included seasoned ground beef with my favorite spices: cumin, chili pepper, MAGGI® and chopped onions. Cheese, lettuce and refried beans.
Frozen Hot Chocolate Frappe'
This was really simple to make and since it's not cold here yet we went with a frappe type of drink.
Ingredients:
ABUELITA™ brand chocolate tablets
milk
ice
whip cream
optional chocolate syrup
Follow the directions on the package to make the hot chocolate.
Then once it cools down, pop it in the blender with ice.  Place in your cups and squirt some whip cream and drizzle chocolate syrup over it.
Pumpkin Empanadas – Empanadas and ABUELITA™ hot chocolate remind me of my childhood.
Ingredients:
2 tblspn LA LECHERA® sweet and condensed milk
1/2 cup LIBBY'S® Pure Pumpkin
1 crescent roll dough tube
Roll our your crescent roll dough. Then cut them into small squares.  Mix your sweet and condensed milk with your put pumpkin puree in a small bowl. Then drop a small spoon full into each square.  Fold the square in half and pinch the ends. Follow the baking directions on packaging.
Activities & Crafts:
Calavera (Skull) Eggs  The Nahua people of Mexico saw the skull as a symbol of life not death. Isn't that so interesting? It's so opposite of what we view it as in our time and culture.
Take out your Easter eggs and recycle them with this fun Calavera party favor!  Just fill them up with NERDS® Fun Size Candy. Not only will the kids have a fun treat to eat but these serve as maracas as well!
Calavera coloring!
The family had so much fun coloring their calavera coloring sheet. I was so impressed with how precise and careful my little one was trying to be with his coloring sheet.  Checkout below how this one activity can turn into three activities.
Calavera Face Mask – You can leave your calavera coloring sheet as is or turn it into a mask!
The second way to use this coloring sheet is setting up a photo booth. Your masks, become a fun photo memory.
Sugar Skull Lantern – Thirdly, the coloring sheet can be used to decorate and make this fun craft. I love how this sugar skull lantern turned out. We used the same printable from above to make this lantern.  I'll be sharing a tutorial for this soon!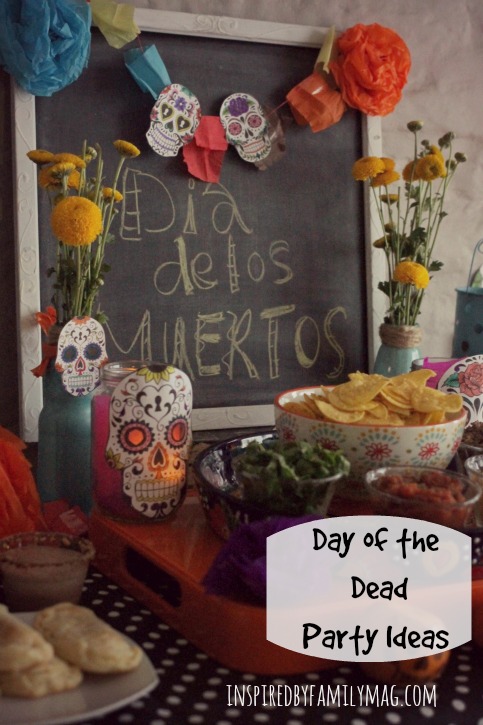 The party shop happened at HEB food stores with NESTLÉ® products!