His 12th birthday party and possibly his last.  Last year, if you recall he decided on not having a party so I tried to find ways to make my  tween's birthday special. But this year to my surprise he asked for one. I could see the inner struggle happening within him–I'm too old for a party or am I not??
Well, once my tween boy decided on a party, then came the challenge of finding a theme he liked. Everything I suggested was too "babyish".  So, we landed on Star Wars which apparently is perfect for kids of ALL ages. I know nothing about Star Wars so I had to go do some research. I know you're thinking how can a mom with a house full of boys not know anything about Star Wars. Thankfully, there are some things I'm more than happy to let my husband enjoy alone with our boys.
The plan was to have a sleep over Star Wars party. I was struggling with coming up with activities. Normally, for my littles I can come up with TONS of activities when given a theme. But now I was constantly confronted with this question, "Is this too "babyish"? I found tons of activities for Star Wars parties on Pinterest but they were not for his age.
So then the light bulb went off and I started looking for activities that you do in youth groups. I racked my brain trying to remember what kind of activities did I used to plan for these tween and teens. So, I ended up organizing a Mall Scavenger Hunt for the first big activity. Then we treated them to pizza and ice cream at a restaurant. We came home and they played outside for a while with their light saber glow in the dark sticks and then they watched one of the Star Wars movies on the projector. This was all buying me some time because the Star Wars cake was still not ready.  Hey, don't judge. In my defense it was a crazy, crazy day. I'll spare you all the details but literally it was dealing with one thing after another. The grand finale of drama was losing my phone during our scavenger hunt at the mall.
Star Wars Party for Tweens
Dessert Table: As you can see it was simple but thematic!  Our Chewbacca cake was a great success. It was a chocolate chip cookie cake with two cookie layers and frosting in between. The kids absolutely loved the fact that it was made from giant cookies. I was able to make 3 large cookies from her recipe but I only used 2 layers for the cake since I was short on time but we did enjoy the extra giant cookie the next day.
I followed this bloggers recipe instructions for the cookie cake and made up my own chocolate cream cheese frosting recipe. And this cake from Cake Central was my inspiration for Chewbacca! ~image via Cake Central
Storm Trooper marshmallows – These were absolutely easy to make. I just used giant marshmallows and an edible ink pen to draw in the face. The pen was dying so the faces were not as clear as I had wished.
I printed these R2-D2 water bottle labels and my boys helped me cut them out and place them on. You can find the free printable here.
As you can see from the picture above the blogger who came up with this fabulous idea used small mini bottles so the labels are not wide. Our bottles were a bit too big for the labels but we made it work. ~image via Upper Sturt Blog
I decorated the table with some all the fun Star Wars stuff we had around the house.  I didn't want to spend too much time on decorating the house so we just did simple things like these Storm Trooper balloons. My plan with these balloons was to have the boys hit them with the Pool Noodle Light Sabers but after searching a few stores for pool noodles and not finding anything I decided to leave that out of our plans. But aren't these pool noodles really cool!
~image via Tastefully Frugal blog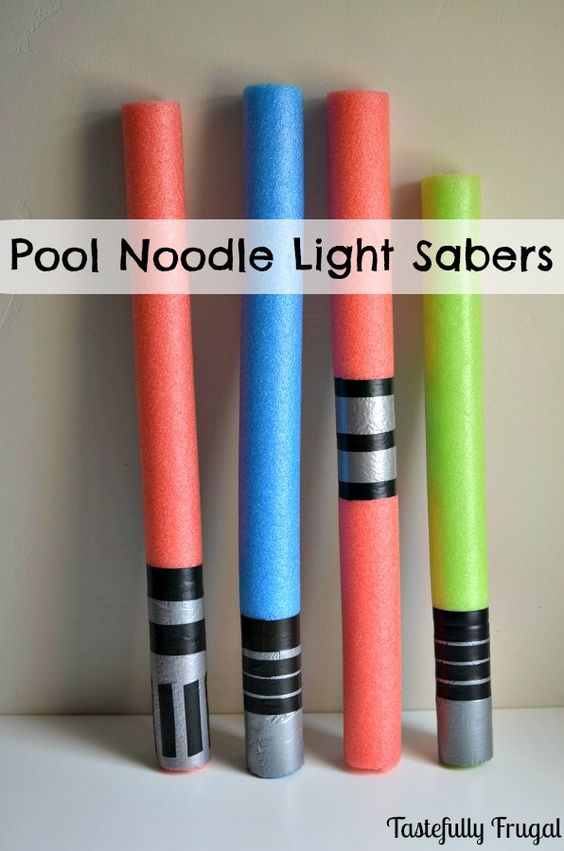 I planned on making these R2-D2 cookies for our dessert table but I didn't have enough time so I ended up with white chocolate covered cookies that weren't decorated. I may still make them because I have a plate full of white chocolate covered cookies sitting on our kitchen island.  Here are the cookies, aren't they so cute!
These are from Semi Sweet Designs and she used macaroons. You can stop by her blog here for more details on the cookies.
Yoda Soda that is almost gone.
I didn't get a picture of them but I found some fat glow stick necklaces and I put gray duct tape on the end of them and made them look like lightsabers.
I'm sure I've mentioned this before but I'd rather spend money on party favors that they can use for more than a day and not on tons of candy and toys that are gone in a day or disposed of. So we found these awesome Star Wars Bags and I placed all things Star Wars inside them: notebook, folder, tattoos, fruit snack and light saber looking candy. Plus a t-shirt that they used later to make their own Star Wars design on it.
Yes, I'm crafting with a bunch of boys!  They loved this craft because they were getting to design their own Star Wars Shirt!
Here's our Star Wars Mall Scavenger Hunt printable that I made up. The items on it have nothing to do with Star Wars but I explained that this was in preparation to become Jedi Knights. Every good Jedi needs to know how to hunt, work as a team and come up with strategies.  My husband and I were the team leaders. I was really impressed with how my team came up with strategies so they could win. They talked about doing the least time consuming thing first and that the ice cream would be the most time consuming so we should do that last.  We won!!
Since it was a sleepover we started our morning off with Make Your Own Yoda Pancakes. I was going running with a friend  early that morning so I just made the green pancakes and in different bowls I set out the different food items for them to make their own Yoda face with the pancakes.
The party was a great success! Everyone seemed to have enjoyed themselves.  It wasn't as time consuming to put together! As you can see from the above pictures the party was simple but I focused on little details to make it special for my not so little guy. Since it was a sleepover I didn't get much sleep that night but other then that minor detail, it wasn't that hard to throw.  This party can easily be tweaked for kid of all ages.