Your preschooler is going to love this fun interactive activity-Alphabet Christmas Ornaments!
I'm so excited to bring you our 2nd annual 10 Days of Christ-Centered Christmas Activities & Crafts for kids!  Over 15 bloggers are joining in and sharing a Christmas kids activity, tradition, game or book inspired craft.
This year we get to participate in the family Christmas gift exchange. We haven't been able to in the past because we lived overseas and it was complicated to get any mail.
My youngest son gets to give his youngest male cousin a gift this year!
I thought long and hard–What is something that would be fun to give him that his parents couldn't buy on their own and that my boys could be a part of the process?
This is what I came up with and I absolutely love how they turned out!
Have you heard of the book M is for Manger by Crystal Bowman & Teri McKinley?  Well after coming across it I decided it is the perfect book to walk little ones through the Christmas story in a simple & fun way.
I knew this would be the perfect gift for his little cousin.
So I came up with this fun and interactive idea: The Christmas Story ABC ornaments. The ornaments make the story interactive and educational.
I love when I can combine a lot of things into one activity. With this activity they get to hear the story of the birth of Jesus, practice their ABC's and even some fine motor skills as they dig through the letters and hang them on their own little tree or magnetic board.
Christmas Story ABC Ornaments Activity for Preschoolers & M is for Manger
supplies you'll need:
(You can find all of the items below at your local craft store. I've included where I bought mine with the affiliate link)
string or ribbon
paint
mod podge
optional: adhesive magnetic strips
You'll need to first paint your wooden craft ornaments.
Once they're dry you'll add your ribbon and alphabet sticker on them.
Then you add a thin layer of Mod podge to it with a paint brush to give it a shiny coat. Let it dry.
Finally, if you're wanting to make them magnetic apply the adhesive magnetic strip to the back of each ornament. This will allow your preschooler to use them on a cookie sheet or on the fridge!
 Want More?
If you're looking for an Advent Calendar focused on Jesus that will take your family through scripture here's one that we are using right now and LOVE! Names of Jesus Advent Ornaments or these HERE that we've used in the past.
It's for the busy family who wants to focus on Christ this seasons. It has both bible verses and a reading plan for the Jesus Storybook Bible that you can use for kids of all ages.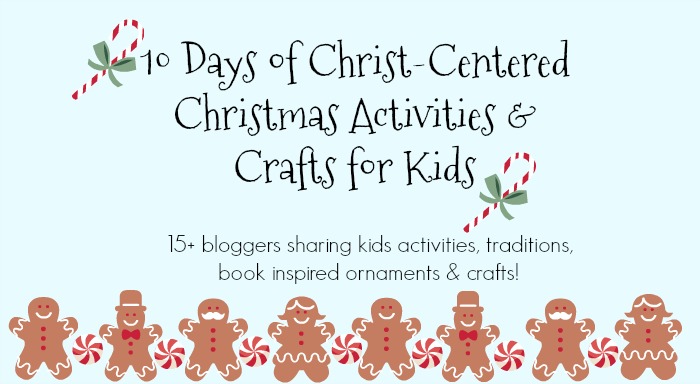 Our 10 Days of Christ-Centered Christmas Activities & Crafts blog hop is filled with lots of fun activities for the family. Our Fabulous bloggers are Inspired by Family, Chaos & Clutter , Paradise Praises, Encouraging Moms at Home, Crafty Moms Share, Thinking Kids Blog, Teach Me Mommy, Proverbial Homemaker,  Suburban Soiree, The Awe Filled Homemaker, Future Flying Saucers, Adventures in Mommydom, Spark and Spook, Talking Mom 2 Mom, Clarissa R. West, Pichea Place  & Homeschool preschool. You can visit Here for the full schedule of activities.
These are our fabulous bloggers who will be sharing with you some fun & simple ideas in the next 10 days. Stop by each day to see what everyone is sharing!