You are probably familiar with this verse from Proverbs 31:25, "She is clothed with strength and dignity she can laugh at the days to come." It truly is a beautiful passage to have on the walls of our home.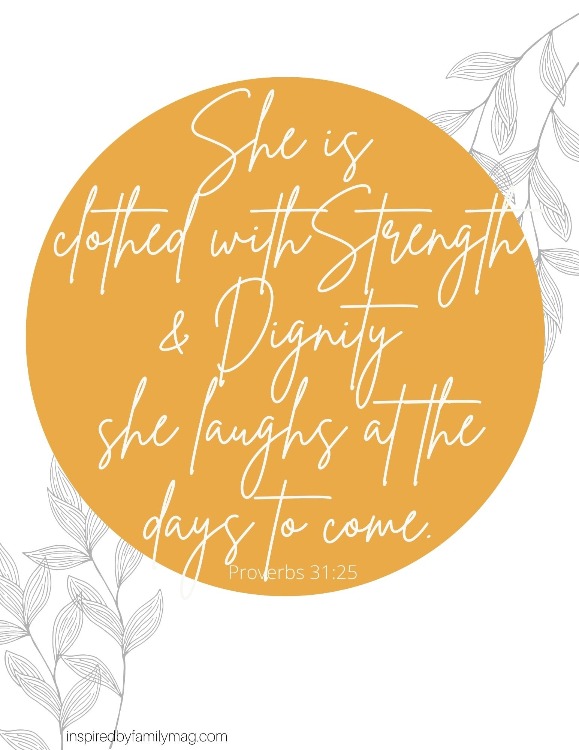 I don't know what the times were like when King Lemuel's mom gave him this sound advice about women –She is clothed with strength and honor, She laughs at the future. Proverbs 31:25
But currently, we find ourselves in the midst of a challenging year with a global pandemic, racial tension, and hate on the rise, political divisiveness, and a tremendous amount of stress and fear. With people all over the world wondering what the future holds for them.
We definitely do NOT find ourselves in "laughing at the future" times maybe it's more like "anxiety-filled about the future" times wondering what will happen with our health, finances, politics, family, community, and the world at large. I can't say I have felt strong nor I have felt like laughing at our future throughout these past 11 months.
So this morning when I read "She is clothed with strength and dignity she can laugh at the days to come." I was immediately filled with questions like–Where does this strength come from? Why does this woman have that gives her the ability to laugh at the future?
Clothed With Christ
In Proverbs 31:30 we get the answer to those questions. We clearly see that this woman is not just any woman she is a woman who fears the Lord, a daughter of the King. A woman of God knows her Heavenly Father and chooses to imperfectly lean into His strength and live in accordance with His truth.
A woman of God knows that her "might, courage, honor, dignity, and boldness" comes from the Lord.
I love the word used in verse 25 "clothed".
She is clothed with strength and dignity and laughs at the days to come".

Proverbs 31:25
Let's take a look at other passages of Scripture to see how the word "clothed" is used. There are lots of verses in the New Testament reminding us to clothe ourselves with Christ. In Colossians 3:12 it says, "Therefore, as God's chosen people, holy and dearly loved, clothe yourselves with… The reason we can clothe ourselves with Christ, with compassion, kindness, and humility is that we are God's chosen people, holy and dearly loved.
We are called out as"God's chosen people" to put on Christ on a daily basis like we would put on a blouse we clothe ourselves with Jesus. John Piper says, "Never be without the covering of Christ."
We put off worry, anxiety, lies and manipulation and we choose to cover ourselves with Christ.
When my heart is overwhelmed lead me to the rock that is higher than I. Psalms 61:2
What do you clothe yourself with?
Clothed with Strength
Can you imagine slipping on a glorious dress of strength and dignity? As daughters of the King, we able to put on this gorgeous dress of strength and we can pair it with incomparable dignity.
This statement "She is clothed with strength" is a jolt to our weary and fearful hearts. It's a call to rise up and claim the promises He has given to His children in His word. This is what gives us strength.
Related: She is clothed with Strength printable can be found HERE.
It's not just any old strength that she wraps herself in but it is the strength of Christ. Throughout scripture "our strength" is connected to Christ. As I looked up the Hebrew for the word "strength" I came across various verses that focused on God as our strength.
-The Lord is my strength and my song… Exodus 15:2
-You have guided them with your strength… Exodus 15:13
-The Lord is my strength and shield my heart trust in Him… Psalms 28:7 We can count on His strength on a daily basis because our Heavenly Father does not grow weary.
The storms may prevail against us but we can stand strong because He is our strength.
And one of my all time favorites is in Ephesians 3:16, "I pray that out of his glorious riches he may strengthen you with power through his Spirit in your inner being,"
She is also clothed with "dignity". The word "dignity" means worthy of honor or respect. Some of us may not feel like we can walk with dignity. When God looks at us He does not see our sins and mistakes, He sees Jesus. Jesus who clothes us with His righteousness. That is why we can walk with our heads up high.
So when the winds of change, loss, sin and confusion prevail and the rain doesn't stop beating over your heads you can stand strong. You stand strong not because "you've got this" or because "you're enough" but because He is your rock and fortress– no matter what may come.
He is your refuge and strength so clothe yourselves with Christ and let it be the reason you remind yourself today–I have nothing to fear.
Our strength does not come from changed circumstances but from our unchanging God.
This is why we don't fear the future. This is why we can laugh at the days to come because we are daughters of the King who holds all things together.
Prayer
Heavenly Father, We come to you confessing that more often than not our hearts are filled with concern about what the future holds but we want to be defined by who you are not our circumstances.
Teach us to stand strong. Remind us to hold on to what we know for certain and that is your Truth and Hope in the midst of uncertain circumstances. Strengthen our inner being Lord so we do not waver no matter what.
In your name, amen.