We live high up in the mountains so when we go camping we have to take all of our fire starting kindling "ammo" to get our fire going.  I discovered this amazing time saving camping hack for starting your campfire, fire bombs.
Note, as I mentioned before we use more than one type of fire starter helper because we are up so high, so this is one of the few things we used to ensure we have a campfire.
Here are some of our other favorite camping articles and most popular on my blog:
Camping with Kids Check List and Tips
Time Saving Camping Hacks: Campfire Fire Bombs
supplies:
toilet paper tube (empty)
dryer lint
newspaper
1. You'll need an empty toilet paper tube.
2. Then stuff it with dryer lint.  We usually keep a trash bag next to our dryer to place all the lint in it so this is what we used.
3. Then wrap it with newspaper as shown below.
Use it as kindling when starting your fire! My boys called them fire bombs, lol. Don't worry they don't have any form of explosive reaction but it was fun for them to give it that name, boys will be boys.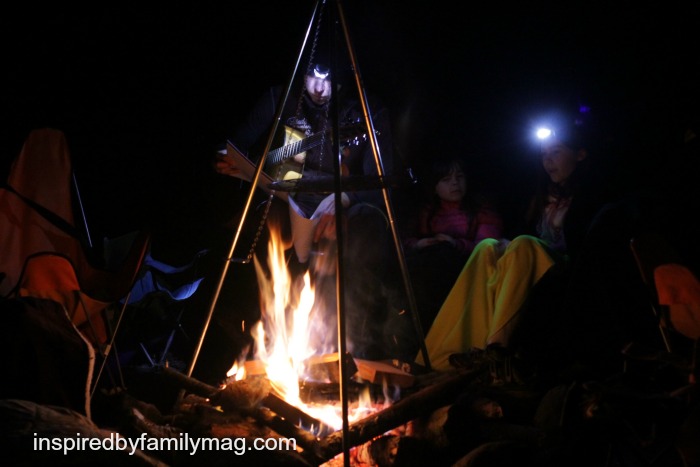 Upside Down Campfire
Here's my second campfire tip that our friend swears to, we have seen it in action and it works wonderfully. When I first heard about it I was a bit leery. What you don't use the good ol triangle method to build the fire?  I finally got to see in action and I was a believer it's called the Upside Down Campfire.  Basically you're building your fire top heavy which is why it's called upside down campfire. You can see the video below on how to build it.  Since I'm not a campfire expert all I can tell you is that it does work. Here's what they say about it on the video:
"Why it works: Heat energy actually radiates equally in all directions from the point of combustion, not just upwards (it's the displacement of gasses as they expand that sends hot air upwards, not the actual heat energy itself). So once combustion of the top layer of your upside down fire occurs, the heat energy is radiating down as much as it is up.
This in turn means that the wood below the combusting material is getting well heated before it catches fire, which in turn facilitates better and more complete combustion of the wood below when it does catch fire. And more complete combustion means less smoke.
More complete combustion also means a hotter fire, which is usually the point of the exercise.
And in turn better combustion also means better coals (when you get to that stage) which mean better campfire cooking (should you be looking to multi-purpose your evening campfire, which you should)."
See for yourself, we love it but if you like feeding the fire then this may not be the thing for you because it really doesn't require feeding for hours.
For more great camping articles visit some of these fun ideas that my kids love!: