Honestly, I had not thought about giving the hubby an Easter basket until now but seriously why not give dad (or grandpa) an Easter basket?  It's like a Christmas stocking but in a pastel colored basket on Easter morning!  So after pondering this idea, I thought mi papi would've loved a manly Easter basket jam packed with his favorite ribs, briskets and sausage from Kroger's (he was a butcher at Kroger) and beer not to drink but to marinade his meat in.
So I decided we would go ahead and make a manly Easter basket for the hubs.  Or if you're making it for grandpa, I've got you covered with Free printable tags for him (see below).
In order, to take this pastel colored holiday to a more manly level we created this, "Dad's Easter Stache!", in his favorite baseball team cap. Or you can go with the little league team cap (my son insisted his little league team is dad's favorite).  We filled it with his favorite stuff like beef jerky, peanut butter eggs, Cadbury eggs, his favorite deodorant, razors and lotion…  Because of course the gifts have to be manly too. I did contemplate filling it with ribs, briskets and sausage but that just didn't look pretty.
Follow along via your favorite social network so you don't miss any of our family fun articles :Pinterest Facebook or Twitter and our readers preferred way via email.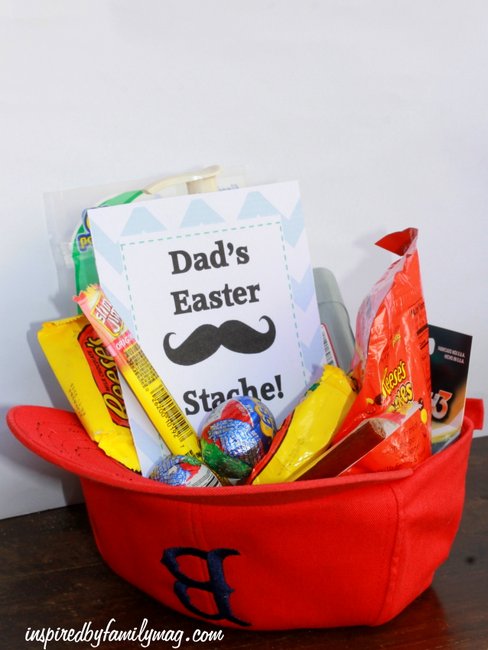 Though I'm sure he wouldn't have minded a pastel covered basket which there were plenty to choose from at Kroger, if it was filled with his favorite "manly men" goodies.  Get the kids involved, it's hilarious to see what they come back with, that apparently is "dad's favorite".  Really, I didn't realize he loves coloring books and crayons, hmmm interesting. But if you are looking for kids Easter basket ideas stop by here , there are lots of other Easter basket themes to get you inspired.
You can print out these FREE printables here: Dad's Easter Stache Printable and because we say "papi" and "abuelito" in our casa I've also included them in Spanish!  Enjoy making your own Easter Basket:"Dad's Easter Stache!"
Spring Cookie Balls: Easter Chicks (no bake)
Easter Advent Countdown (printables)
Fun Spring Food: Carrot Shaped Calzones
10 Minute Easter Craft: Feathered Chick
12+ Christ-Centered Easter Activities