This Nativity Craft from Toilet Paper Tubes is a simple activity that keeps on giving. My son has played with this for the past 4 years. Every year I take it out and he plays with it.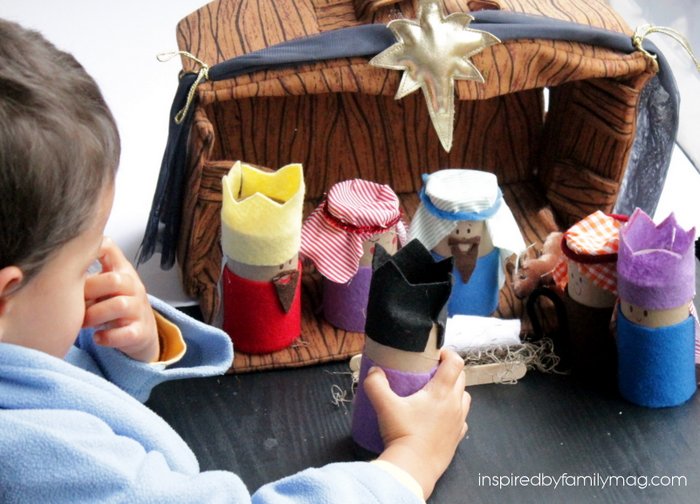 By now you've probably realize that I love TP tube crafts.  We use them A LOT, the last thing I made was a barn yard & farm animals that was used so much that it literally fell apart.
This is our second year displaying our TP tube nativity that we made a couple of years ago, and it's held up just fine.  My toddler especially loves playing with it, the other day he made a ramp off the table for the wise men to jump off of. I'm not joking.
We didn't spend a lot of time or money on this craft and it's been a big hit with my children, not to mention it's a constant reminder of why our family celebrates Christmas.  I love these kinds of crafts.
Plus, it goes well with any of your Christ focused Christmas books and I'm really loving this one by Max Lucado called Itsy Bitsy Christmas: You're Never too Little for His Love.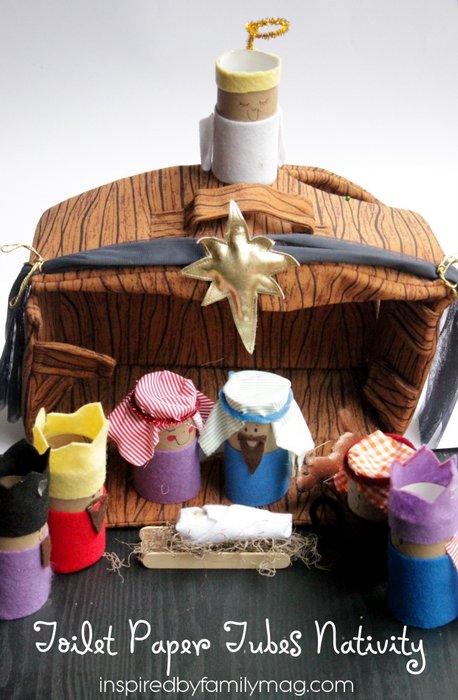 Nativity Craft from Toilet Paper Tubes
Supplies:
tp tubes
craft glue
pipe cleaners
scrap fabric
popsicle sticks
We used popsicle sticks to make the manger for baby Jesus. If you're working with toddlers have all the fabric pieces all cut out for them so all they have to do is place them on and glue.
The kings did have gems on their crowns and those disappeared one afternoon shortly after they were made.  Feel free to add gems but I can't guarantee your toddler won't be tempted to take right off and then put it on his forehead and up his nose.
A fun idea I shared with the teen moms group I work with is you can use this as an advent calendar.  Each day bring out a person from your manger and share a verse about it. For example, start with the angel and then talk about how he angel came to visit Mary.
Ours so just sits in the middle of our living room on the coffee table so our boys can play with it.
We also have the Nativity Craft Stick Ornament idea you can find over HERE.