This shop has been compensated by Collective Bias, Inc. and its advertiser. All opinions are mine alone. #BigelowTea #TeaProudly #CollectiveBias Take a look below for my must read inspirational books list to enjoy when you're sick.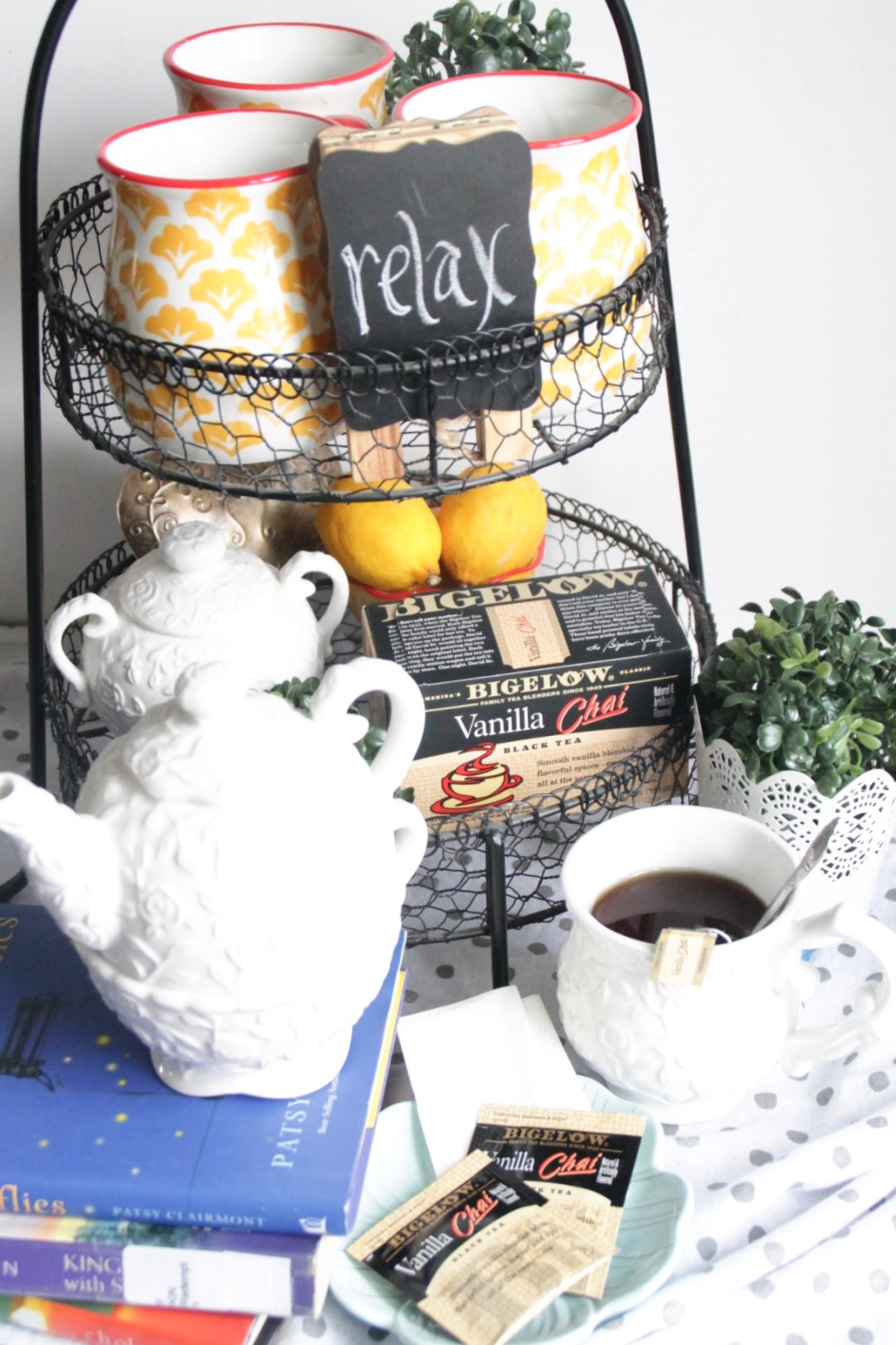 Click on image above!
I felt awful at work. I was fine at home but some time after 10 a.m. my body started to ache.  My head was all congested, my nose was running and I almost coughed up my lungs. Okay maybe I'm exaggerating a bit but you get the point.
I knew I was coming down with something.
When I'm sick I have cravings. Is that just me or can anyone else relate? All I could think of was these four things throughout my sick-ridden day at work.
I want my mom.
I want a hot cup of tea.
I want a big bowl of lemony chicken noodle soup.
I want to curl up on my couch with a good inspirational book.
I'm an adult now living far away from my parents so my mom is not around but a big bowl of lemony chicken noodle soup, a good book and a soothing hot cup of tea will do the trick.
But not just any tea will satisfy my sick-ridden cravings. I want my Bigelow  mint tea or chai tea served with 1 tablespoon of milk.
There's something comforting about swirling the creamy white into my dark cup of tea as the steam rises and evaporates into the cold air.
I recently discovered the Bigelow Vanilla Chai and it's definitely a must try.  I'm not really a black tea drinker but I love all the spices in Chai and I especially enjoy it on a cold winter day.
12+ Great Inspirational Feel Good Books to Read When You're Sick
When I'm sick I need a specific kind of book genre. I've tried reading self help books when I'm ill but it just doesn't work. I personally need to read something inspirational or feel-good. Here's my list of inspirational and feel-good books to enjoy when you're sick or just need something beautiful, humane, real and uplifting.
Gilead by Marilynne Robinson
Limitless by Nic Vujicic
tuesdays with Morrie by Mitch Albom
The Help by Kathryn Stockett
Bittersweet by Shauna Niequist
Hope Heals by Katherine Wolf
Same Kind of Different As Me by Ron Hall & Denver Moore
Wonder by R.J. Palacio
Catching Fireflies by Patsy Clairemont
Redeeming Love by Francine Rivers
Esperanza Rising by Pam Munoz
A Long Walk to Water by Linda Sue Park
Redemption by Karen Kingsbury & Gary Smalley
Bossypants by Tina Fey
Yes Please by Amy Poehler
My list includes some quick read children's chapter books that I highly recommend for adults to read. The last two by Tina Fey and Amy Poehler are not inspirational in the typical sense but they will definitely inspire you to laugh.
Download your free printable HERE: 12+ Great Inspirational Feel Good Books Just click on it and print at home then take it to the library with you or order them online.
As always I like to share what I find my goods. You can go to your local Walmart to find Bigelow tea.
This month Bigelow is celebrating hot tea month so go be wild and try something fun like their Green Tea with Pomegranate!
Bigelow is celebrating Hot Tea Month this January! Don't forget to enter for a chance to win $475 cozy-up prize pack with Bigelow Tea! Enter below. Make sure to follow Bigelow Tea on Facebook, Twitter and Instagram!
#TeaProudly #Sweepstakes (1/16 to 2/28)