I love to cook and my family loves to eat!  So there's no better way to celebrate Hispanic Heritage month than eating our way through all of these yummy Latin recipes!
Dinner is our family time where we not only gather to eat but to enjoy each others company via questions, games and just chatting. It's also the time I can squeeze in some life lessons and prayer for one another and others.
So my plan is to enjoy our meal from Latin America and then find the country of the day on our handy dandy globe. I like to keep a globe around as home decor.  If we have time, I'll share with my kiddos a song from that country.
8 Kid Friendly Hispanic Heritage Month Recipes
Chicken Tinga click here for the recipe– Muy Bueno Cook – We enjoyed this recipe today the only thing I would add here is don't use chipotle if your family doesn't like spicy stuff. I did use 1 teaspoon of it and mixed it in with the tomato sauce and my kids liked it. They could only taste the smoky flavor of the chipotle!
Chicken Pozole from Mexico click here for the recipe– Pati's Mexican Table – Another one of my favorite meals that reminds me of my childhood during the holidays.
Alfajores from Argentina click here for the recipe– Roxana's Home Baking – I never had alfajores until we moved to South America, all I can say is their addictive.
Ecuadorian Chicken Stew click here for the recipe– Bren Herrera Blog – Nothing like adding a twist to your chicken meals with this Ecuadorian style dish.
Venezuelan Chicha Rice Milk -This can be served as a dessert or appetizer. Click here for the recipe Bren Herrera Blog
Pupusas from El Salvador – click here for the recipe–Three Many Cooks Blog I've never made pupasas but we used to have a Salvadorian neighbor who would share her yummy food with us.
Sopes from Mexico with this step by step tutorial at News Taco you'll find it easy to make this deliciousness.
Magdalenas from Spain – click here for the recipe  Los Tragaldabas Blog  or this recipe in English from One Perfect Bite. This is a great breakfast treat that I'm going to whip up tomorrow for my boys for breakfast, hopefully we have enough for them to take one in their lunch.
UPDATE: They smelled amazingly wonderful while baking and turned out lovely. The perfect amount of sweetness for breakfast or snack. I didn't need 40 muffins so I used the One Perfect  Bite recipe.
Okay, I know I said 8 but here are two more. I couldn't help myself.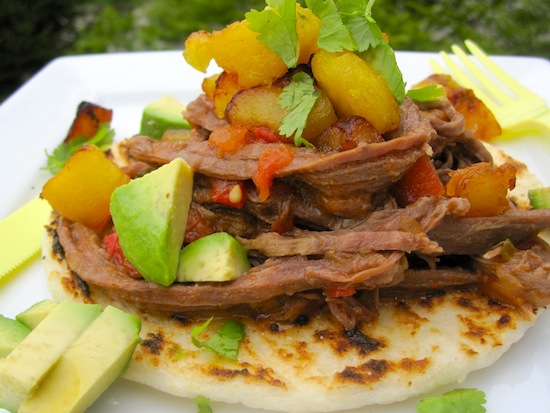 Arepas con Carne Desmechada (shredded beef) – Arepas are made in Columbia, Venezuela and Guatemala.  This meal is Columbian though and I can't wait to eat it with my Columbian guest we are having over for dinner! Apparentely Arepas are really easy to make, I'll let you know. This recipe can be found at My Columbian Recipes blog.
Guatemalan Coconut Chicken sounds amazing! I'm a big fan of all things coconut milk.  You can find the recipe at The Duo Dishes blog
As you can see from my selection, I love Mexican food.  Tonight we had the Chicken Tinga and though we've never had this meal before it sure was similar to Chicken Tostadas, which I grew up eating. I'll be trying the Ecuadorian Chicken Stew at the end of the week!
For the past 4 years I've joined in on this Hispanic Heritage Month series. Check out all of the awesome prizes below!!!
Multicultural Kid Blogs Hispanic Heritage Month Series and Giveaway

Multicultural Kid Blogs is excited to be hosting its FOURTH annual Hispanic Heritage Month series and giveaway! Throughour the month (September 15 – October 15), you'll find great resources to share Hispanic Heritage with kids, plus you can enter to win in our great giveaway! Visit our main page for a full schedule of the articles in this series